REVIEWS: Flash Rebirth, Dragon*Con 2009, and The Year in Comics 1992 and 1993
I've appeared on several podcasts in the past few months, but have been horribly negligent about giving them a shout-out here.  These were all podcasts hosted by my good buddy Michael Bailey (of Views from the Longbox and From Crisis to Crisis).  He's been kind enough to invite me to participate a number of times, and I always enjoy bantering with him.  These were recorded some time ago, so please forgive if they are covering things from a while back.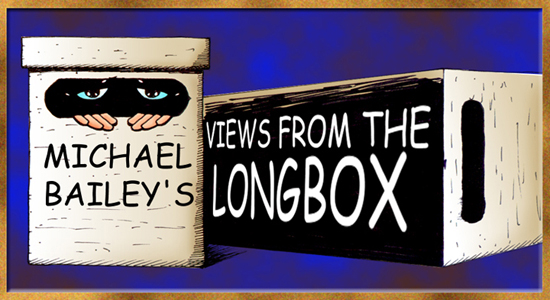 Views from the Speed Force – Flash: Rebirth #3 – Mike and I discuss Flash: Rebirth #3 by Geoff Johns and Ethan Van Sciver.  Here we disagree about the middle part of this issue, talk more about Iris' age and even go into how Diamond Previews can be used for good…and evil. We recorded this quite a while ago, but I'm just now getting around to telling you about it.  Also, DC isn't in any hurry to get this series out, so why should we be any different?
Dragon*Con 2009 Review – Back in September while still at Dragon*Con, Mike and I discussed our experiences at the event up to that point.  Much fun was had and you get to hear all sorts of juicy stories about which comic pros and celebrities are nice and which ones kind of suck.  Also making appearances are our friends from THE UNIQUE GEEK, Ravenface and Race.
Mike has embarked on a fascinating 13-part journey reviewing comics from his first 13 years of collecting.  Each episode covers a single year, starting with '87 and working his way towards 2000.  In addition to covering the relevant comics from each year, Mike shares personal stories about his life and activities during these times. Mike was kind enough to invite me to join him covering 1992 and 1993 – two very important years for comics.
The Year in Comics 1992 – One of the biggest years in comic book history! Not only do we discuss the creation of Image Comics but we also discuss the Batman books, a bit about Batman Returns, the 10 issue Justice Society of America title, Spider-Man's 30th Anniversary, Marvel 2099, Eclipso: The Darkness Within, the Marvel Universe Series III card set, the Death of Superman, and more.   In between all of that we go into personal annecdotes, the art of the mixed tape, my career as a comic store manager, and more!
The Year in Comics 1993 Part One and Part Two – The year the comics industry started to come off the rails. In this episode we cover: the end of Superman: Funeral for a Friend, how readers were reacting to the post-Death of Superman material, Destiny's Hand from Justice League America, the Return of Barry Allen from Flash, the introduction of the Milestone Universe, Knightfall, Maximum Carnage, Reign of the Supermen, Lois and Clark TV show, and then some really personal stories. After that Mike and I get into the whys and hows the comic industry crashed in the nineties.
And still in post-production, but out soon… Views from Sector 666 Episode #3 – I join Mike and Thomas Deja (of DJ's Comics Cavalcade and Better in the Dark) as we discuss last months crop of Blackest Night books.  Issues specifically discussed include: Blackest Night #3, Green Lantern #46, Green Lantern Corps #40, Blackest Night Superman #2, Blackest Night Batman #2, and Blackest Night Titans #2.  Watch the Views from the Longbox website for details on release.